Tech volunteers at Seattle's first Hack to End Homelessness told us that they were spending their weekend working because they wanted to do something to help end homelessness. They'd recognized and felt horrible about the problem, but many hadn't known how to take steps toward solving it. It can feel daunting to tackle a problem as complex as homelessness, to know how to use your unique skills to help your community. And sometimes good intentions can create negative impacts.
Hack to End Homelessness organizers went to great lengths to make sure their event would have only positive outcomes, in the form of both tech solutions and an expanded awareness of the complexity of homelessness. And they made it easy for participants and collaborators. Because we felt the Hack was an example of organizing and community-building done right, we invited Candace Faber to write about her experience managing the initiative—after she was mostly recovered from the epic Hack weekend, of course!  
---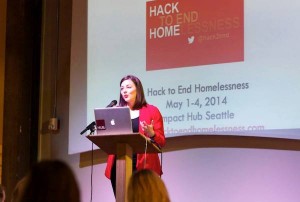 Written by Candace Faber, Hack to End Homelessness project manager
It should be easy to do good, but it isn't. Most people want a quick solution to social problems like homelessness–"just" build an app, "just" give someone money, or "just" volunteer a little time. While that's not realistic, neither is restricting participation to those who make a lifelong commitment to an issue. We rarely act on a problem when we cannot see a solution. However, if you make it easy for people to do good, they will.
This proved to be true for Hack to End Homelessness, an initiative I helped to launch this month. The weekend of activism brought together over 100 people–volunteers, technologists, designers, subject matter experts, and others–who collaborated on solutions to critical challenges surrounding homelessness. We raised over half the event costs from sponsors such as Globys, BitTitan, F5 Networks, and Union Gospel Mission. The teams produced 12 concrete tools that are already empowering the work of local non-profits that work on homelessness full-time, many participants continue to volunteer their skills, and we reached at least 100,000 people around the world. We call it a huge success.
But making it easy for people to do good is not itself an easy task. "Just" doing something can do more harm than good, or at best be a waste of precious resources. When we started out, we encountered a lot of suspicion among local non-profits. Several of them cited past efforts by the tech community that, while well-meaning, were irrelevant at best. At worst, they exacerbated myths about homelessness that are obstacles to achieving broader policy solutions. Yet we needed expert partners' help to ensure that our work would have a meaningful impact.
So how exactly can non-profits and well-intentioned organizers collaborate? Here are the seven most important lessons we learned through Hack to End:
1. Make a commitment. It is never easy to do something new, especially not when you want it to matter. We earned our partners' trust when we made it clear that we were going to see this idea through.
2. Be humble. To design a solution, you have to be willing to let go of your preconceived ideas. The mobile app or wearable tech you *think* will solve homelessness might in fact be a complete waste of time and precious resources.
3. Acknowledge complexity. We learned that there was no quick technological fix to homelessness. This enabled us to move faster toward ways that technology can make a difference.
4. Embrace small steps. We eschewed sweeping ideas about ending homelessness once and for all with more achievable interventions that move things in the right direction, right now.
5. Stay out of the politics. We were careful to structure everything about the event in such a way that it did not create unproductive competition among our partners. For example, we chose not to benefit one single partner over another. After all, our participants were not interested in just one organization–they wanted to make a difference on homelessness overall.
6. Find a champion. While we had several champions within the community, this event would never have come together without the one who served on our organizing team: Catherine Hinrichsen, who has worked with the Project on Family Homelessness at Seattle University for many years. Her reputation and network helped us earn trust with organizations that work on homelessness, and her expertise kept us on track. Every project needs a Catherine.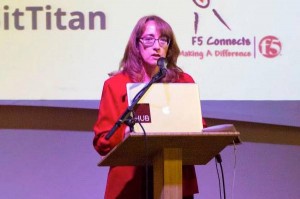 7. Make it easy on your partners, too. We worked hard to reduce the barrier to entry for every organization. Our tech lead, Ethan Phelps-Goodman, coached each participating organization one-on-one to help them define their projects with the appropriate scope for a weekend hackathon.
Following these principles not only made it possible for us to do something meaningful, it also made it easy for our participants, collaborators, and volunteers to "just" show up and still be able to make a difference. The takeaway? It's hard to make things easy—but it's worth it.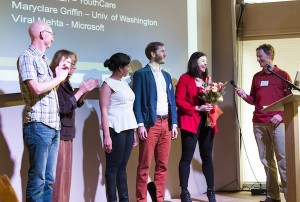 ---
For more on the oh-so-awesome Hack to End Homelessness, check out our blog post recap with videos.