Written by Denise Miller, Firesteel Advocacy Coordinator
More and more nonprofits and advocacy organizations are taking to social media to spread their messages. It's important that we all regularly assess whether our content is helping us reach our goals, so we can adjust our strategies as needed. On today's podcast, Erin and I talk about measuring the impact of online content. We go over setting goals, share some tips and tools for quantitative measurements, and touch on the importance of qualitative measurements.
Setting goals
The first step is having a clear vision of what you want to accomplish through your social media efforts. Then you can work backwards to figure out what strategies and tools will help you arrive at that outcome.
The Greenlining Institute has a great social media toolkit for nonprofits with comprehensive information about setting goals, choosing the right social media tools, and creating "SMART Objectives" to help you evaluate your strategies. Below they explain what a "SMART Objective" is: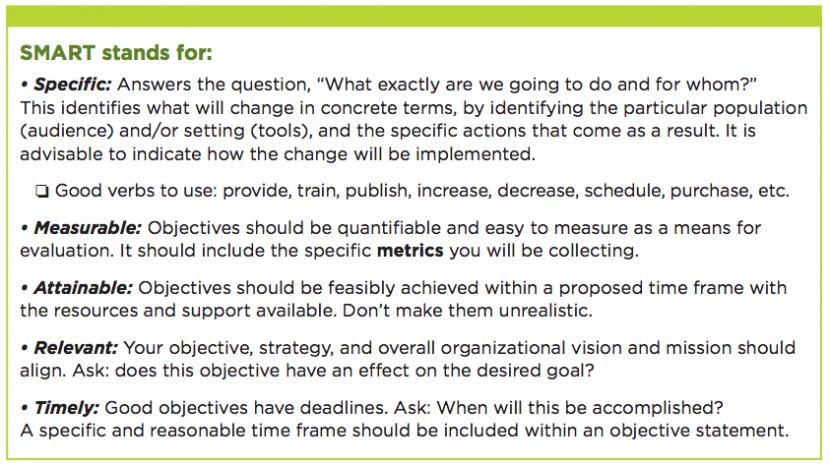 Measurement tools
We use a variety of tools to measure the reach and effectiveness of our online content every month. With the exception of Hootsuite, all these tools are free.
For Facebook, we use Insights, a powerful tool that Facebook provides to page administrators. You can quickly see which of your posts are attracting engagement, how many people are visiting your Facebook page, demographic information about who is interacting with your content, and much more from the dashboard. Through the Pages to Watch feature, you can also track how Facebook pages that you don't own are faring.
We use Hootsuite to measure our Twitter followers, retweets and click-throughs. We also like to look for patterns in the timing of popular tweets. If we're consistently getting a lot of retweets between noon and 2pm, for example, we'll learn that that is a good time to reach our audience.

For our WordPress blog, we use Google Analytics to see how many people view each post and how much time they spend reading them. If a specific blog post gets an extraordinary number of views, we might try to produce more content like that! Or if viewers click away from a long post after a few seconds, that tells us the content isn't engaging or maybe the title is misleading. We also like to track how people get to our site. If, for example, Pinterest is doing a great job at driving traffic to our site, then we might put more resources into posting regularly on Pinterest.
Also in the Google suite, YouTube offers tools that let you know how many people are watching your videos, and how long they're sticking with them. You can even track at what point viewers drop off, and use that information to help shape your video strategy.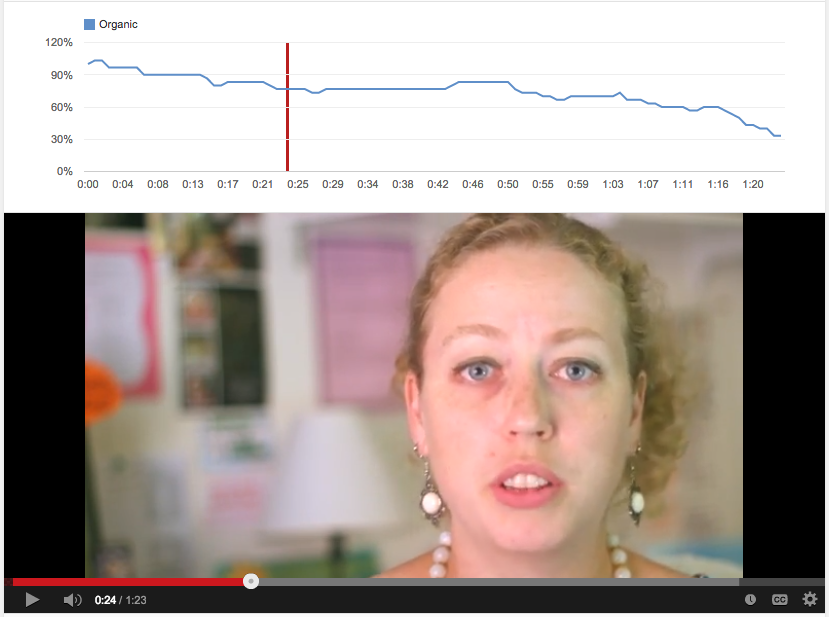 Insights, Google Analytics and YouTube all offer some demographic information about viewers. This can be helpful in making sure that we're reaching our target audience. For example, we direct most of our storytelling content toward Washington voters who can make a difference in our state. If a huge number of our Facebook followers were in New York, we might need to think about how to better tailor our content for people in our area.
We want to hear from you
This is a very basic overview of measuring the effectiveness of your content, and you might already have great systems in place. What tools do you use for analytics? How have your analyses shaped your strategies? Let us know by leaving a comment below!
---
At Firesteel, we test a lot of new media tools as we advocate for an end to homelessness. The purpose of the Spark Change Podcast is to share what we've learned, and to help other advocates use these tools. Please let us know what you think of Spark Change so far! Your feedback will help shape future episodes.
Subscribe to Spark Change on iTunes and never miss an episode!