Throughout October, Domestic Violence Awareness Month, we're sharing information about the connections between domestic violence and homelessness. Above is the third of four new videos exploring those connections.
Domestic violence programs are doing great work to serve victims and prevent homelessness, but they often lack the resources they need to keep women and families safe and stably housed. On a single day in 2014, domestic violence programs in Washington state reported 489 unmet needs for housing.
We all have a lot of advocacy to do to ensure that all community members — including survivors of domestic violence — have the opportunity to live in a safe, healthy, affordable home. To inspire you to take action, we're sharing a moving post by Firesteel's first advocacy intern, Carissa Daniels. A survivor of domestic violence who experienced homelessness with her daughter, Carissa is now a strong voice for ending domestic violence and its devastating effects. -Denise
---
Written by Carissa Daniels, Firesteel Advocacy Intern and Seattle University Communications Student
Seventeen years ago, I took my daughter and left my home, due to domestic violence. We spent four months homeless, living in the labyrinth of confidential domestic violence shelters in order to stay safe from my ex, who had threatened my life.
The final straw for my leaving was when, on three separate occasions, my ex took off with my then three-year-old daughter, not telling me where they were going, and leaving me with nothing but a cell phone number, but refusing to answer when I called. Each time, he was gone for more than three days. I was going out of my mind and it only got worse when I learned that the type of behaviors he was exhibiting were red flags of someone planning to kidnap a child. (When it is done by a parent, it is called custodial interference.) The police told me that when I got my daughter back, either I should leave with her, or I would risk never seeing my child again. My love for my daughter made me strong enough to get us out, and we started over, working to build a new life in a brand-new area.
Once my daughter was 18, I was free to talk about what we had endured, and I knew that doing so could help others to understand the truth about homelessness, poverty and domestic violence. I could be a voice for those who have no voice. I began working with the media and my legislators in an effort to change the system. It was while I was at a lobby day event for domestic violence issues in Olympia that I was told about a congressional hearing being held for "clarifying the applicability of child abduction statutes to residential provisions ordered by a court."
When you take away the legalese, this case was about exactly what I had nearly experienced. Another woman had not been as lucky as I. Her ex had taken their child and run. All the way to Mexico. Three months later, her ex was caught coming back across the border — without the child. Authorities arrested him and eventually found the child, who was given back to their mother, after having been gone for six months. This particular case went to the Washington State Supreme Court, but their ruling left a gray area that meant kids would continue to be needlessly exposed to dangerous situations. That is why clarification was needed: to protect children in the future.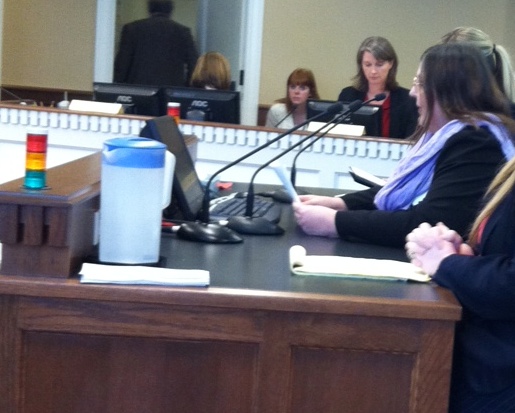 The call went out for someone with experience in this area, who would be willing to testify. I had 30 minutes to write my speech. There were three of us who testified that day: me, the prosecutor who had argued the case before the Supreme Court, and the public policy expert for the Washington State Coalition Against Domestic Violence (WSCADV). I spoke first and testified about my own experience, explaining why this bill was (and is) so critical to protect children. The prosecutor gave specifics about the case that made the bill necessary, and the WSCADV expert gave important additional information.
According to the U.S. Department of Justice, each year more than 200,000 children become victims of family abduction. It is a crime in all 50 states, one which endangers and leaves children and the custodial parent traumatized. In some cases, the consequences are deadly.
Once the hearing was over and those of us who had spoken were excused, we got up to depart. It was a little like the parting of the Red Sea; people moved aside, but as they did, they congratulated us on a job well done. Strangers high-fived me and called the three of us who testified "a triple threat."
I was notified later that the bill had passed overwhelmingly, 96 to zero. Considering the challenges in politics in the last few years, that was nothing short of a miracle. I hope that my story had something to do with that.
If, by speaking up now, I can protect others, or keep them from having to go through the kinds of nightmares we have, or educate in ways that will make a difference, it is absolutely worth it. I'm out to change my world… one voice, speaking the truth, building a new life, one step at a time.
---
What you can do
Are you feeling motivated to follow Carissa's example and speak up for change? Here are some actions you can take: