During the 2013-14 school year, more than 32,000 students in Washington schools were identified as homeless. Students who don't have a stable home struggle to learn. This chart shows the learning gap between students who have homes and those who don't: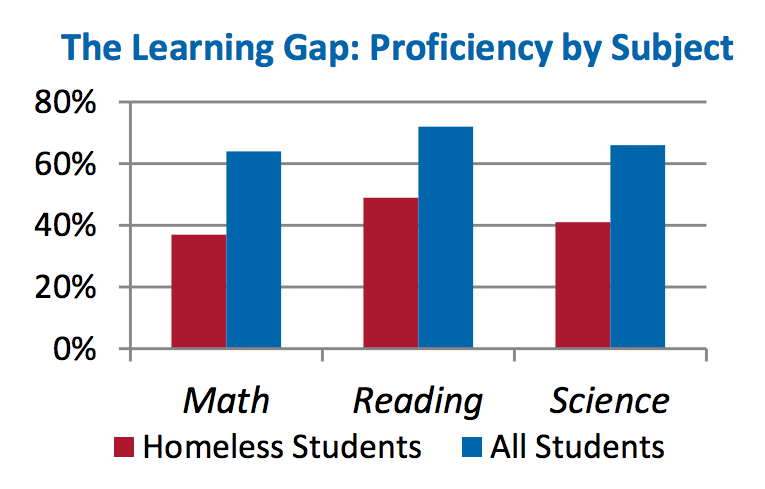 The Homeless Student Stability Act will help close this gap by ensuring homeless students are well supported by school districts, and by providing new opportunities for stable homes for many families.
How would it work?
The act will provide dedicated staff support for homeless student education liaisons — positions required by the McKinney-Vento Act, a federal law that protects homeless students — as a component of basic education. Liaisons identify homeless students and connect them with needed services, such as tutoring and food assistance.
The act also establishes a housing partnership grant program for up to 15 school districts to provide funds for housing vouchers, rapid re-housing, host homes, or other programs that assist homeless students and their families. These partnerships will be data-driven and based upon local need to improve stability and academic performance of homeless students.
Update (6.3.15)
The Homeless Student Stability Act passed the House but did not make it through the Senate. It was disappointing not to pass the bill this year, but we made progress in educating lawmakers and the public about the connections between housing stability and academic success. We will continue advocating for policies and resources to help ensure that all children have a home in which to do their homework.
What can you do?
Share your story. Do you have a story about how homelessness has affected you or a student in your life? Let us know.
Further resources: