Samantha Tripoli, YWCA Health Access & Volunteer Services Coordinator, reports back from the 22nd Annual Conference on Ending Homelessness held in Yakima, WA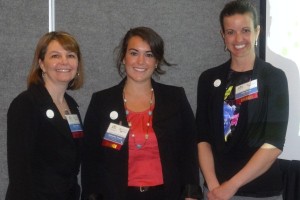 "Did she just talk about gaming at a conference on homelessness?"
If you attended the 22nd Annual Conference on Ending Homelessness in Washington State last week, you may have overheard this question while waiting in line for lunch. That's because YWCA staff Gestin Suttle, Erin Black and I gave a presentation earlier that day on social media advocacy strategies that utilized Firesteel as a case study.
Not only was the audience enthralled with the idea of an issue-based website vs. an organizational website, they were also particularly intrigued by the idea of incorporating gaming and Facebook onto the platform as well.
"The idea of Firesteel is based primarily around the presumption that we need to meet people where they're at," Gestin said, as she demonstrated the various stages of involvement and user friendliness intertwined in the model of Firesteel.
I posed this question to the audience: "Imagine if your work didn't actually feel like work. Imagine that working felt like playing a game. How many more of us would love to go to work every day if gaming strategies were incorporated into our tasks day in and day out?"
Not only did the audience eat up the idea of gaming and the simple and easily functioning platform of Firesteel, but they also loved the idea of taking social media to the next level.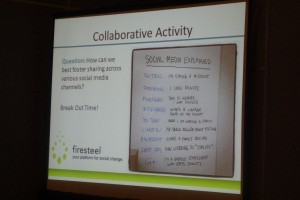 I was impressed with the various examples and strategies being used by other organizations at the conference. From video campaigns and digital storytelling on YouTube, to event registration techniques on Facebook, the three presenters of Firesteel learned just as much from the audience as the audience did from them. And that is a presentation worth remembering.
---
To learn more about ways nonprofits can benefit from social gaming, check out these articles: