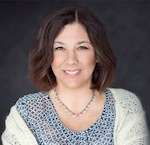 Written by Lisa Gustaveson, Seattle University Faith & Family Homelessness Program Manager
"What's the best way to learn about complex social issues like poverty and family homelessness?" This question forms the basis of my work as program manager for Seattle University's School of Theology and Ministry Faith & Family Homelessness project. When asked, I'll usually suggest a review of the many poverty-related studies and reports published in both local and media outlets to get started. Socio-economic data released by the US census bureau just this past week confirms what social service providers know: poor families in every part of the country are struggling to survive, with little hope for the future. Sadly, if you are a poor, single mother with little education, your chances of economic recovery are very low.  
Another study suggests simply being poor impacts one's ability to make decisions. After reading an article about how poverty damages decision-making, I commented to my Facebook friends, "I can't imagine how difficult it must be for parents worrying about how to feed or house their children… Of course poor decisions might be made! I've made some of my worst decisions in moments of stress."
Although I have faced financial crises during childhood and as an adult, my experiences are nothing like families living in poverty today. It's hard for me to imagine what it's really like for struggling parents to get help in an often confusing, disconnected system.
Seeking a Deeper Understanding
Reading data and reports is one way to learn about poverty; however, it is more difficult to really know what it is to be poor. Over the past 18 months we've been working with the 14 Faith & Family Homelessness Project sites in King, Pierce and Snohomish counties to identify the best faith-based educational activities that can help us more deeply understand and take action to stop the cycle of generational poverty and homelessness.
Early on, the Temple Beth Or and First Presbyterian Church teams in Everett wanted to plan a large-scale simulation to help their members learn what pushes poor families into homelessness. They understood how challenging it would be to use a simulation or immersion experience to educate their members about such a difficult topic. One of the planning team noted, "If we were to spend days and nights on the streets we'd never fully know what it means to be homeless. When you know you have a home waiting for you, it's different." They knew that an exercise in "pretending" to be poor could be seen as insensitive. The team also realized that creating their own simulation from scratch would consume most of their time and resources set aside for the project.
An Internet search brought up a handful of options – ranging from online tools like Playspent, to short "equity" exercises in which participants are assigned varying levels of resources. A trend emerged, with most searches containing the widely acclaimed Missouri Community Action Poverty Simulation. Further research led the team to local expert Ezzy Salazar and her team at Hopelink, who were trained in the Missouri model and graciously agreed to help put on the simulation.
Poverty Immersion Workshop

After months of planning, more than 90 men, women and children (over the age of 12) arrived at the Everett Train Station on a rainy Sunday afternoon in late April for the three-hour Poverty Immersion Workshop. At the check-in station, participants were each assigned a role within one of 26 "families." After a short wait, anxious participants were invited to enter the workshop space and find their family members and homes. Twenty trained volunteers waited at their stations, ready to play the roles of social workers, teachers, employers, police, landlords and bankers.
The workshop facilitator carefully explained the afternoon's "rules." One 15-minute session equaled one week for the family, and a set of tasks were to be completed within that week. Tasks included keeping family members housed and fed. Children were required to attend school, and infants could not be left unattended. Transportation passes had to be used when moving between appointments. Businesses like the employment office, banks and social services were only open for set hours, with no flexibility.
Most importantly, participants were instructed to refrain from treating the workshop like a game. The nervous energy around the room made it easy to begin to think of the experience as "win or lose." Suddenly, the immersion portion of the workshop began with a single whistle blow – signifying the beginning of the first week.
I felt prepared to play the role of landlord, thinking "I am the manager of the Faith & Family Homelessness project and I completed the volunteer training. How hard can this be?" Nothing prepared me for the look of bewilderment, frustration and anger in the eyes of the "parents" who came to me with no-win situations. Almost immediately, lines formed at the most useful resources, parents became weary and "children" (often adults playing a role) squirmed. The workshop concluded with a period of reflection and sharing, with service providers and advocates on hand to help the participants identify ways they could help local families struggling with poverty and homelessness.
I don't want to give away too much on the details of the experience as I want to encourage you to participate in local simulations and experiences as they become available. For example, consider joining the Seattle University community on Nov. 19 from 5 to 8 p.m. for our Poverty Immersion Workshop. (Note: Registration is required – visit here for more details.) If you live in North and East King County between the I-90 corridor to the Seattle city limits and the Snohomish County line, and from the shores of Lake Washington to the crest of the Cascades, contact Hopelink to find the next Poverty Simulation in your area.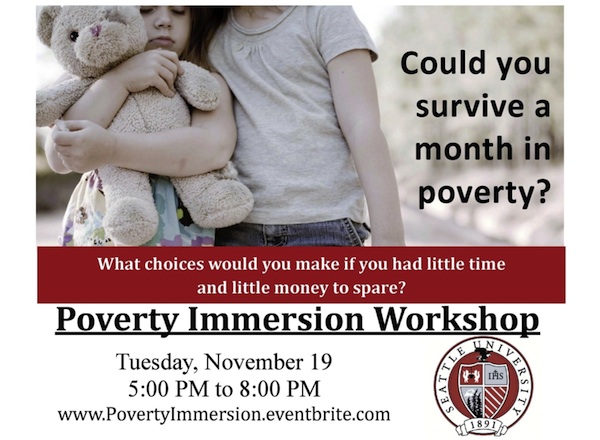 ---
About the author:
Lisa Gustaveson is program manager for Seattle University's School of Theology and Ministry's (STM) Faith and Family Homelessness Project. Funded by a two-year commitment from the Bill & Melinda Gates Foundation, the project is a concentrated effort to inspire increased advocacy and care around the issue of family homelessness in the greater Puget Sound faith community.
Over her career spanning almost two decades, Lisa has held leadership and consulting positions with nonprofit agencies and state, county, and city governments. Prior to joining STM, Lisa was Director of Communications for Catholic Community Services of Western Washington, the largest private social service agency in the state. As project manager for the Committee to End Homelessness in King County, she successfully managed the development of a regional strategy to end homelessness. Lisa has a Masters degree from Seattle University in Not-for-Profit Leadership.